Our History

Boost! West Oakland, formerly known as Lafayette School Mentoring Project (LSMP), was founded in 1997 by Joan and Howard Poulter. The couple responded to the need for academic improvement in West Oakland schools and wanted to create a program that would encourage students to strive for excellence.

The project is funded by the West Oakland Children's Fund through support from the Tides Center, located in the Presidio of San Francisco. Through the generosity of our donors, the program offers one-on-one tutoring and enrichment programs to students in order to inspire them to take learning seriously and overcome the obstacles that keep many children from achieving academic success.

On December 15th, 2010 - after being LSMP for over 13 years, we announced our new name - Boost! West Oakland. Choosing a new name was a community-wide effort in collaboration with LSMP staff, tutors, and board members. A name change committee helped us select the new name and chose a name submitted by a tutor! We look forward to another 13 years and beyond serving the students of West Oakland as Boost!


Mission

Boost! West Oakland empowers youth, cultivates academic skills and confidence, and advances student learning. Boost! fosters healthy attitudes toward learning and strengthens students' academic performance and self-esteem through individualized one-on-one tutoring and mentoring, community activities, and enrichment opportunities.





Vision

To foster the development of a life-long love of learning in West Oakland youth.
BOOST! Staff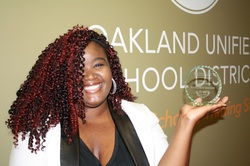 Born and raised in Oakland, CA, Ty-Licia Hooker attended E. Morris Cox's and E.C. Reems Academy of Technology and Arts. After attending Reems, Ty-Licia moved to Stockton, CA where she attended Cesar Chavez High School and became very active in the Stockton community. She defied the odds of falling into the traps of her environment and entered the collegiate gates of University of the Pacific. It was here that she became the first person in her family to both attend and graduate college.

Ty-Licia is the founder of the STORM program at University of the Pacific, the schools only student-centered mentoring program and has become a model for leadership development for the institution as the whole. Additionally, she co-founded the Summer Success and Leadership Academy- a residential program that trains Stockton's youth to create solutions to the problems facing the city. She brings a background in pedagogical approaches, experience working extensively with at-risk populations, and an expertise in teaching effective mentorship strategies and techniques.


---
An optimistic bay area native that thrives to be the best he can be. Timothy Demry was raised by his grandmother and became the first in his family to graduate college. Timothy is a Teach for America alumni and has his sights set on making significant changes outside the classroom in order for the classroom to be more sustainable for students as well as teachers. Timothy loves being around children and is considered well-versed in the art of teaching. Timothy craves new challenges and consistently pursues a higher level of knowledge. Timothy is driven by the love for urban communities as well as his own five year old child (Jahsiah M. Demry).
---
Zubida is a first generation Sudanese-American whose family emigrated from Sudan, Africa and resettled in Oakland, CA in 1996. The support for education and emphasis on learning and special tutoring allowed Zubida to bring about many firsts for her family. She has a drive and passion to improve and empower her communities through economic freedom and entrepreneurship. Zubida is a graduate of Encinal High School (Alameda, CA) and holds a B.S. in Finance from Johnson C. Smith University (Charlotte, NC). Previous experience includes Virginia Tech University, Dept. Of State, Dept. of Transportation, MicroFund for Women (Amman, Jordan), Middlebury Language Schools (Arabic), and the West African Research Center (Dakar, Senegal).


---
Advisory Board
Brigitte Hoyer
Chairperson

Brigitte Gosselink is a Principal at Google.org, where she leads grantmaking around technology and innovation to help address global challenges. Prior to Google.org, Brigitte was a strategy consultant for nonprofits and foundations at The Bridgespan Group and has also worked in international development for the U.S. Agency for International Development and an international NGO. She has an MBA from Yale School of Management and a BS in Systems Engineering from the University of Virginia. She has been tutoring at Boost! West Oakland for three years and a member of the board for one year.

Brandi Pretlow

Brandi Pretlow is a Social Worker at Making Waves Academy Public Charter School in Richmond. In college, Brandi started her career working with youth, coordinating an after-school tutoring program for local high school students. Since then she has worked as a Teaching Fellow at Citizen Schools, a national out-of-school time program for middle school students, and Program Director at Horton's Kids, a comprehensive family services non-profit in DC. In addition to her M.Ed., Brandi recently completed a Master's in Social Work program at the University of Chicago. After spending eight years in the Midwest and on the East Coast, Brandi is excited to be back in California, and is looking forward to supporting the youth of West Oakland!

Denise Cicala

Denise has been tutoring with Boost! West Oakland since 2007 and has thus far mentored two students. Spending her days in Oakland, as an engineer at East Bay MUD in Downtown Oakland, has fostered a deep love for the community. Her relationships with her students have proven incredibly fulfilling, leading to her desire for increased involvement with the program. Denise joined the Advisory Board in 2011. When not hanging out with her favorite buddy in West Oakland, you can usually find Denise in her kitchen cooking and eating, and occasionally running around her neighborhood in San Francisco, hoping to balance all of that cooking and eating.

Joan Poulter
Founder

Joan is a retired Special Education teacher who is passionate about education and social jus-tice. She lives in Oakland; and she and her husband, Howard, became aware of Lafayette Elementary School because it is located close to their church. After helping the school with a fundraiser one year, the Poulters were called upon to help determine how to best use the dona-tions. They talked with teachers and students, and they realized that many of the children were in need of intensive academic and emotional support. In 1997, the Poulters founded LSMP to address that need.


Deborah Brown

Debbie Brown has been a Boost! tutor/mentor since 2008. After obtaining a Masters in Teaching English as a Second Language from Georgia State University, she developed curriculum and taught ESL to a variety of students, including the maintenance workers at Georgia Tech and Georgia State, Hispanic mothers-to-be, and newly arrived Karen and Burmese refugees in Oakland. For several years she has recruited volunteers and donations for Boost! at the First Unitarian Church of Oakland. As a board member, she looks forward to helping find new ways to publicize the good work that Boost! is doing and to make the program sustainable.


Our Supporters
West Oakland Children's Fund
Bernard E. and Alba Witkin Foundation
Malina/Watchter Family Fund
And the many wonderful individual donations from friends, family, tutors, and more!
Without the generation contributions from our supporters and donors, Boost! West Oakland wouldn't be able to serve our students and community. Thank you for your continued dedication and support of our program!
You can become a Boost! West Oakland supporter today! A $1,500 gift pays for one student to enroll in Boost! for free this school year.
Our Community Partners
Lafayette Elementary School
Lafayette Elementary School has symbiotically partnered with Boost! for the last 19 years in serving the students of West Oakland.
Oakland Literacy Coalition
The Oakland Literacy Coalition (OLC) is a collaboration of literacy service providers, foundations, businesses, Oakland city representatives, the Oakland Unified School District and other community partners committed to the goal of equipping, at a proficient level, all Oakland children with the life skills of reading, writing, and communication by the end of third grade.
First Unitarian Church of Oakland
For more than a century, the First Unitarian Church of Oakland has been a progressive religious voice in the heart of downtown Oakland. They are a community where people with different beliefs worship as one faith, where religious inspiration comes from not one but many sources.