Thank you for your interest in volunteering with Boost! West Oakland. At Boost, kids want to be tutored, they look forward each week to that special one-on-one time.
To join our family of 100+ volunteers, just complete an application, attend an orientation session, and pass a background check and TB test. We will help make this process as easy as possible. To view the Tides Center Criminal Background Check Policy,
Click here
Apply Here To Become A Volunteer
Weekly Tutoring Session Hours:
Mondays, Tuesdays, Thursdays - 3:00 to 4:30pm or 5:30 to 7:00pm
Wednesdays 1:30 to 3:00pm or 5:30 to 7:00pm
Questions? Please contact
info@boostoakland.org
Who We Serve
Since its inception in 1997, Boost! West Oakland has served more than 2,000 students with reading, writing, and math tutoring, enrichment activities, and mentoring support.

Demographic Distribution
Boost! West Oakland serves a population in need and at-risk. West Oakland residents stand a 50% chance of becoming victims of a violent crime.The West Oakland neighborhoods served by Lafayette Elementary routinely post crime and poverty statistics among the highest in the county and state:


• All students in the program are eligible for the Federal Free and Reduced Lunch Program.
• 71% of West Oakland households have annual incomes of less than $30,000
• 33% of residents are CalWORKS (TANF) or MediCal participants

The program's students reflect the diversity of the school and the surrounding neighborhoods:

• African American: 60%
• Latino 33%
• Middle Eastern 4%
• multiracial/multi-ethnic 2%.



---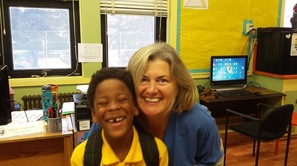 Impacts of Tutoring

Boost! West Oakland tutors implement individualized strategies to teach and reteach a range of academic skills. Tutors also extend students' learning profoundly beyond the classroom and expose them to new experiences they would not otherwise have encountered.

Students Academic Skills
Improved reading, writing, oral language development, and math skills

Attitudes Towards Learning
Increased motivation to learn and try new things, connection of learning to personal lives, ability to fight marginalization, and sense of responsibility for one's learning

Sense Of Self
Developing coping skills, self confidence, and independence

Life Options
Exploring career options, college preparation, and life balance


---